Boobs4Food On The Road: Food Bank NYC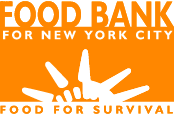 While basking in our recent holiday trip to NYC, we were able to continue our commitment to bringing the Boobs4Food movement to wherever we travel around the world. Our generous host in New York City was the Community Kitchen & Food Pantry of West Harlem, part of the Food Bank for New York City organization.
The Community Kitchen & Food Pantry of West Harlem, located on 116 Street, offers low-income New Yorkers a broad range of interrelated programs to alleviate hunger, including a soup kitchen that serves hot meals, a choice-style food pantry and a Meals on Heels meal-delivery program.
After a full afternoon of exploring  and eating our way through Manhattan, Boobs4Food jumped on the 1 Uptown and headed up to Harlem to volunteer for the evening. Upon our arrival, there was already a long line of patrons standing in the cold waiting for the support of the Community Kitchen & Food Pantry. We were greeted by Krystine, the volunteer coordinator, and introduced to the significance and purpose of the Kitchen & Food Pantry. Krystine turned out to be a lifesaver as she was generous enough to let us borrow a pair of shoes as we weren't all prepared with the proper footwear – a potentially terrible misstep that was avoided thanks to Kristine's spare footwear options around the office for situations such as ours.
Our time spent at the Kitchen & Pantry was utilized towards helping Chef Nate, the onsite culinary director, in the kitchen and serving food to patrons and re-stocking the Pantry that was just shopped through earlier in the afternoon. The Kitchen duties consisted of serving a well-balanced hot dinner of turkey pot roast, steamed vegetables, rice, salad,  bread, juice & fruit. Kitchen manager "C" made sure everyone was on their A-game during dinner service, both volunteers and dining patrons.
The Pantry duties involved us stocking and organizing cans, boxes and packages of vegetables, pasta, rice and legumes in order for patrons to easily select during their choice-style Pantry Hours. The Community Kitchen & Pantry's choice-style Pantry is open daily to eligible New Yorkers to choose fresh produce and packaged, frozen and canned food the need, free of charge in a grocery store style of environment.
What we enjoyed most about our time at the Community Kitchen & Pantry was meeting the other volunteers and team members.  A couple volunteers were part of CSA (Community Supported Agriculture) and we got to see some of the latest offerings fresh from the farm including kale and flint corn. We definitely look forward to helping out again at the Community Kitchen & Pantry on our next visit to New York…and we promise to wear appropriate footwear!
Thank you Chef Nate, Krystine & C for hosting us in your Community Kitchen & Pantry!
For more information, please visit Food Bank NYC.
-Team Boobs4Food SF & LA